Gin of the Week: Cadenhead's Old Raj
Posted: September 23, 2015
As part of our Botanical Capital series, we pick a Gin of the Week to spread the word about some wonderful gins. This week: Old Raj Dry Gin.
THE BASICS:
ABV: 55%
Price: Around £28, 70cl
Website: WhiskyTastingRoom.com
Background
As Scotland's oldest independent bottler, Cadenhead's certainly have some experience with spirits. Since 1842, William Cadenhead and his descendants have been bottling whisky from Scottish distilleries and today they now count Old Raj gin amongst their collection too.
There are two types of Old Raj: the 55% Blue Label version (which we are reviewing here) and the 46% Red Label. Both start out with a list of eight fairly common botanicals - juniper, coriander seed, angelica root, lemon and orange peels, orris root, cassia bark and almond powder – which are steeped for 36 hours before being distilled in a small pot still.
It is at this point that Old Raj takes on its most distinctive feature; saffron is added to give the gin a beautiful golden colour. The master blender personally watches over every addition of the rare and costly spice, making sure that just the right amount is added for colour and flavour. The resulting mixture is then diluted to two different strengths, each with its own unique characteristics.
Taste
Gins infused in the way that Old Raj is can often be dominated by one single flavour, with the delicacy of the separate botanicals lost. However, any apprehensions our Taste Team had were immediately dispelled on first sip of the 55% Blue Label version.
There is certainly the fresh juniper you expect from any gin (which is always a good start) and strong citrus notes come through too, with a slight sweetness suggesting the orange rather than lemon peel. However, tying everything together in the background is the rich, earthy-sweetness of the saffron. Think of it as the difference between a plain tomato sauce and one with fresh herbs; a new depth of flavour hard to precisely describe emerges. As with all good gins, balance is the key word here; the saffron does enough to add that unique little twist, without dominating all other flavours.
The extra strength intensifies all these flavours, whilst remaining very smooth, giving the gin a luxurious feel. Delicious.
Gin & Tonic Garnish: Nothing
We tried a few different garnishes in our Old Raj G&Ts, but we ultimately decided that the gin is at its best when left alone to speak for itself. With the delicate saffron flavour so distinctive and important to Old Raj, we felt that adding garnishes was unnecessary. Simply with a good tonic, or even just straight over ice worked perfectly.
Cocktail: Martini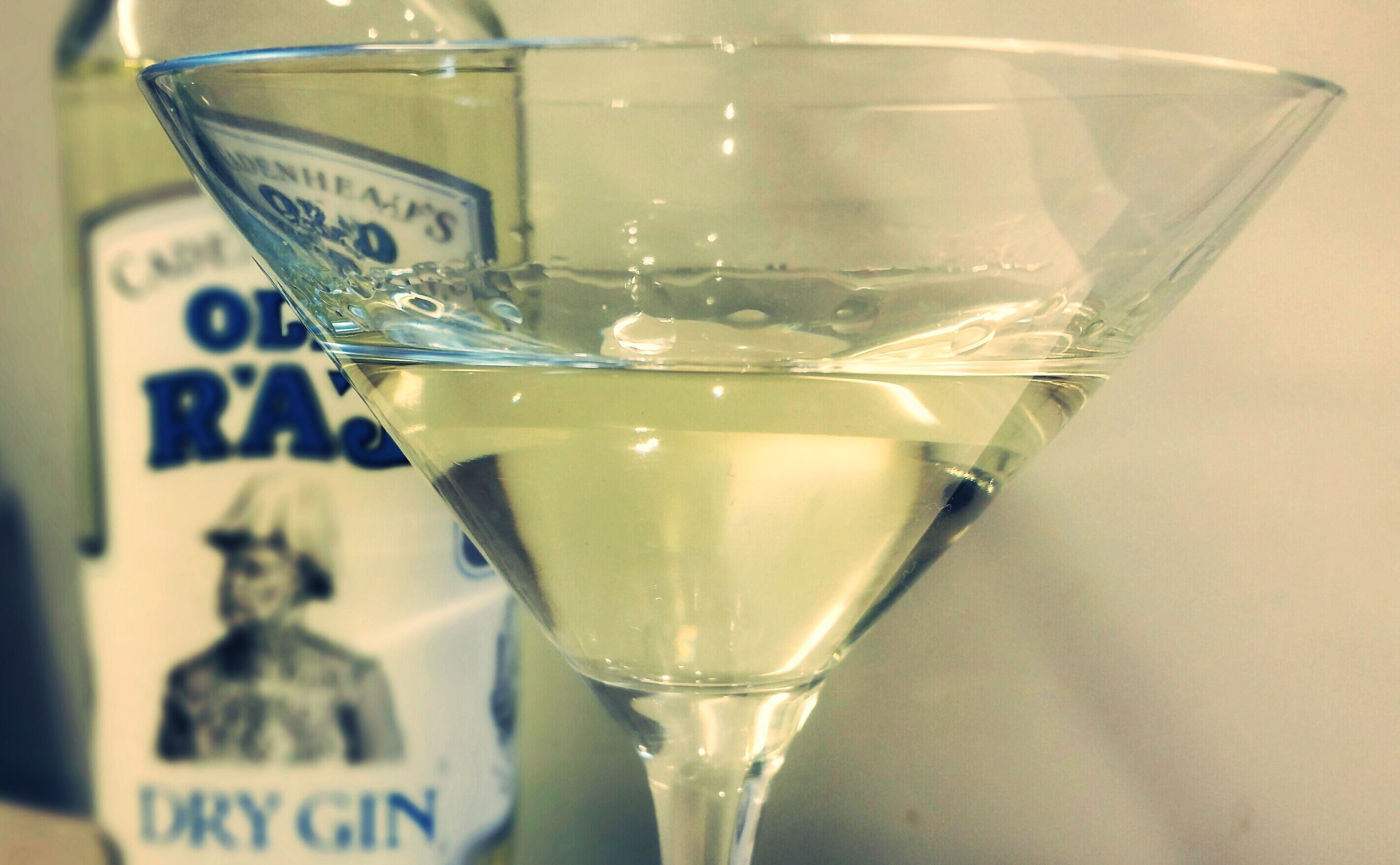 As with the G&T, we didn't want to mask the delicate saffron flavour with overly strong ingredients in a cocktail. Therefore, the classic Martini is the obvious choice. Despite its high proof, Old Raj makes a very smooth Martini (though obviously still an INTENSE drink) with a unique yellow glow. Just add your normal favourite proportions of dry vermouth and olive/lemon.
**Competition** - 70cl Bottle of Old Raj - CLOSED
Gin (46%)
We gave away a stunning bottle of Old Raj (the 46% variation) to one lucky winner. Make sure you follow us on Twitter at @ldncard for future competitions.
#Competition - #WIN a delicious bottle of Cadenhead's Old Raj gin. RT & follow us to enter http://t.co/f1OW7pMu1R pic.twitter.com/tCPGO9FIDd

— LDN Card (@LDNcard) August 26, 2015
We'll be back next week with another wonderful gin and competition. Read more posts on gin at our Botanical Capital hub.

Competition Terms & Conditions
- Prizes are not transferable and have no redeemable value
- Entrants must be 18 years of age or older and will be asked for proof of age before receiving their prize
- The winner will be chosen at random from those who retweet the specified tweet and follow (or were already following) @ldncard during the promotional period - before 11am Wednesday 2nd September 2015
- At the end of the promotional period, the names will be collated and the winning user will be chosen at random
- Entry to the free prize draw is subject to these rules which you agree to be bound by. If you have a query regarding this free prize draw, please email info@ldncard.com
- The winner will be notified via a direct message on Twitter and this will contain instructions on how to redeem the prize. You will not be notified if you are unsuccessful. If the winner has not replied within 48 hours of our initial contact, we reserve the right to redraw the winning user at random
- The winner must have a UK address for the prize to be sent to via standard Royal Mail postage
- Please drink responsibly