Tête à Tête Opera Festival: Mannequin | Evariste | Turandot Reimagined | Sonata for YouTube
Posted: July 31, 2015

As we enter Week 2 of Tête a Tête, Mary Nguyen has her latest piece from the opera festival:
At RADA Academy, Mannequin (pictured top) - a new video opera about human cloning - projected a colourful kaleidoscope of ideas, some beautiful and daring whilst others ominous and discomforting. Héloïse Werner sings gracefully, but with a frightening twist. She exhibits the anger felt by her character Ania after discovering she is the clone of a famous deceased singer. One moment her voice floats in the air and another she shouts in shock.
The music is filled with discourse and feelings of betrayal as it moves to Ania's every emotion. Composer Maria Vatenina has introduced something refreshing and topical, and I didn't want it to end.
Moving to Regents Theatre, Sonata for YouTube is a curiously bizarre piece, with three performers (Detta Danford, Joseph Willis, Natasha Zielazinski) introducing clips from randonyoutube.net on their laptops projected on to a screen for the audience to see. In three movements YouTube clips are picked at random as the structure of each movement remains the same.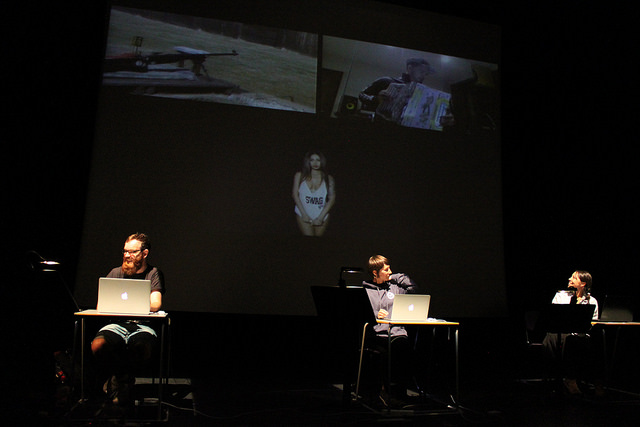 Sonata for YouTube (c) Tête a Tête
The Music Director of Tête a Tête conducted, which was rather unusual considering that much of what was on screen was a mishmash of rock music, computer games, adverts, political protests, Chinese music videos, Polish rap songs and foreign dialogue. The list of random clips is endless. At the outset, composer Llywelyn ap Myrddin told the audience that the moments of silence were to be taken with "a sense of humour", but the audience didn't seem to get it. It was only in the clips that were actually funny that a couple of people laughed. The finale was performed twice to prove the point that each delivery was different but structurally the same, though some in the audiences seemed relieved it was over.
Évariste, composed by Helgi R. Ingvarsson, is a re-enactment of the life of French mathematics genius Évariste Galois. It depicts his struggles with love interest Stéphanie and his failed examination at the Polytechnique institute. Choral scholar Jonathan Hyde gives a heart-breaking performance as the vulnerable and obsessive Évariste with soaring mezzo-soprano Freya Jacklin as the selfish Stéphanie.
Three examiners sing operatically and move like dancers, and, together a small ensemble, produce a highly dramatic opera that grabs the audience's attention with touching music that captures the intensity and tragedy taking place on stage.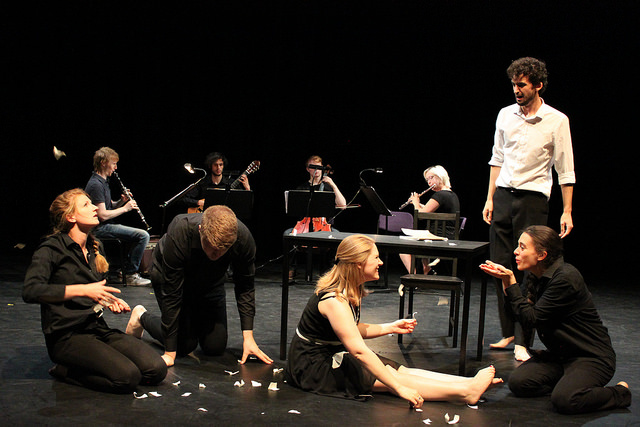 Évariste (c) Tête a Tête
The evening at Regent's Theatre ended with a longer than expected work in progress by Jonathan Man. He and composer Ruth Chan have attempted to reimagine the original music of Puccini's Chinese inspired opera Turandot, using Chinese and Asian instruments. Both have done extensive research to produce Turandot Reimagined, but the night was more of a demonstration than a full-scale performance of the final production.
With the SOAS Silk and Bamboo Ensemble it was a delight to hear new intriguing music to parts of Puccini's score. The performance was divided into two: the first sung in Chinese and the second in English but with more Chinese orchestration.
Fresh vocalists Keith Pun, Henry Ka-Lok Ngan, Christine Allado, Jonathan Chan and a long list of chorus singers have a lot to offer and at such early stages there is a conceptual idea that seems appealing. However, Puccini wrote the music based on the Italian language and it may be better for this piece to have its own name as some Puccini fans may not agree with hearing their favourite opera heard in ancient Chinese.
Tête à Tête runs until 9th August at various venues in the King's Cross area - see the full schedule here. On LDNCard.com you can get special discounted tickets for just £5 right here.
Read more posts by Mary Nguyen here, including her reviews of Tête à Tête Day 2 and Day 4, and follow her on Twitter @MaryGNguyen